Can you add a virtual tour to Google Maps?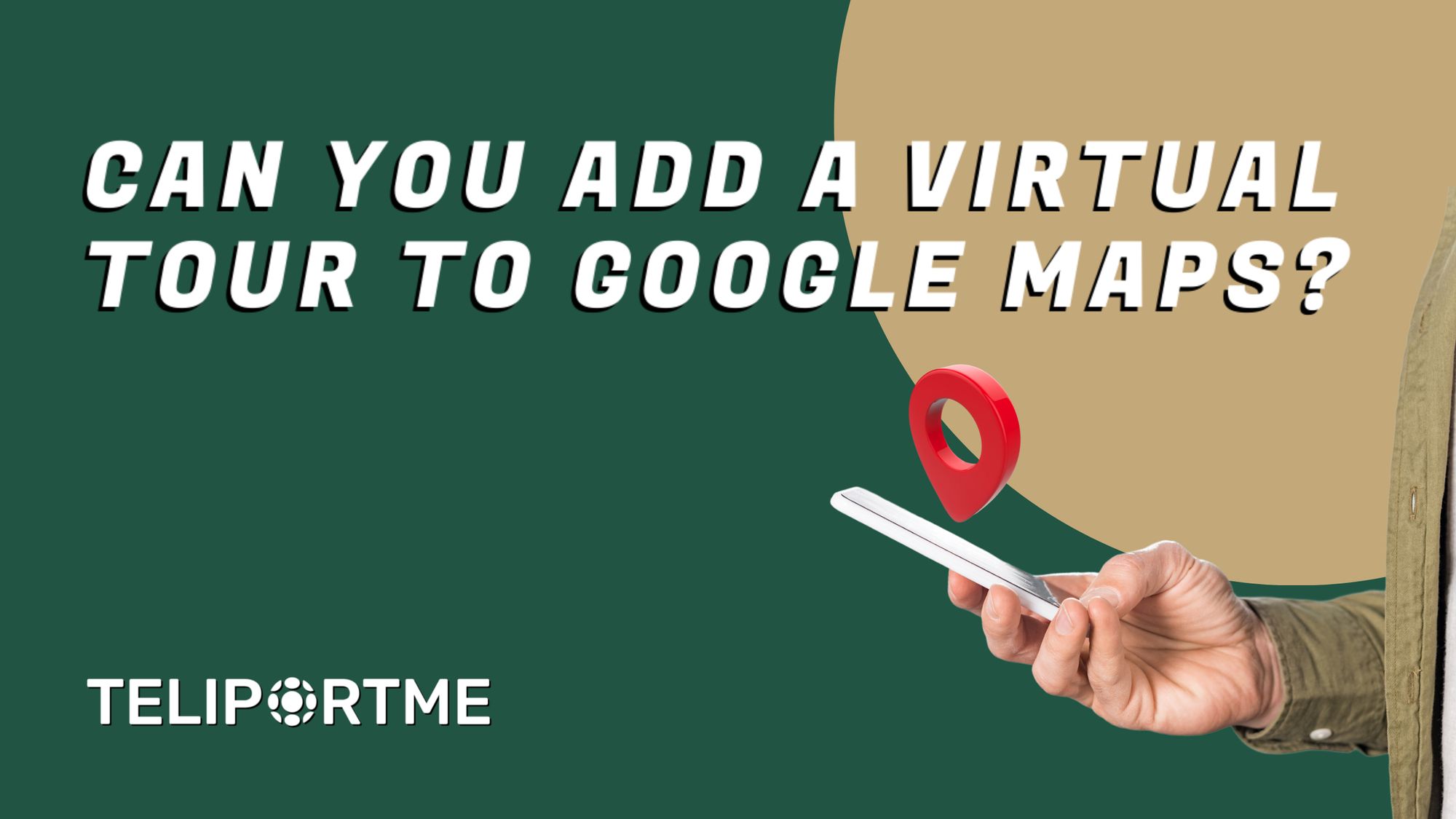 In this article, we'll teach you how to put a virtual tour of your business directly on Google Maps. We'll also give you some tips to maximize your business's exposure and create more conversions.  
Index
Intro
What is Google My Business?
What is Google Street View?
What is a virtual tour?
Are 360-degree photographs and virtual tours the same thing?
Benefits of Adding a Virtual Tour to Google Maps
Do I need any special equipment or professional gear to create a virtual tour?
Do I need any special software?
Google's Guidelines
Getting Started
Intro
The Street View feature on Google Maps has enabled us to see remote places like Machu Pichu, the White House, and even beneath Loch Ness. The dedicated team at Google have gone to great lengths to map out our world and put it on display, but there's at least one place they haven't recorded— the inside of your business.
Yes, Google may have captured a view of the outside of your family business; your sleek signage, the brick-and-mortar facade, and perhaps even a large window where you might catch a glimpse of a warm and inviting interior.
But you can't go inside your business on Google Street View— until now.
All you need is some software.
If elevating your digital presence feels like trying to catch smoke with your bare hands, let us back up and give you some background.
What is Google My Business?
Google My Business (GMB) is a free tool provided by Google that allows businesses to create and manage their online presence, including their business listing, reviews, and other important information.
If you're a business owner, you probably already know that your company's Google My Business profile is one of the most important assets in your digital marketing toolbox. Hopefully, high-quality images of the inside of your business are already online, giving potential customers the opportunity to discover your offerings.
Because most people find businesses through a Google search, it's super important to manage your Google Business Profile well.
Complete listings (listings with photos AND a virtual tour) tend to outperform other similar businesses in search rankings.
Unclaimed listings (which display the message "Own this business?") can give off the impression that the business owner doesn't care about the business's online presence.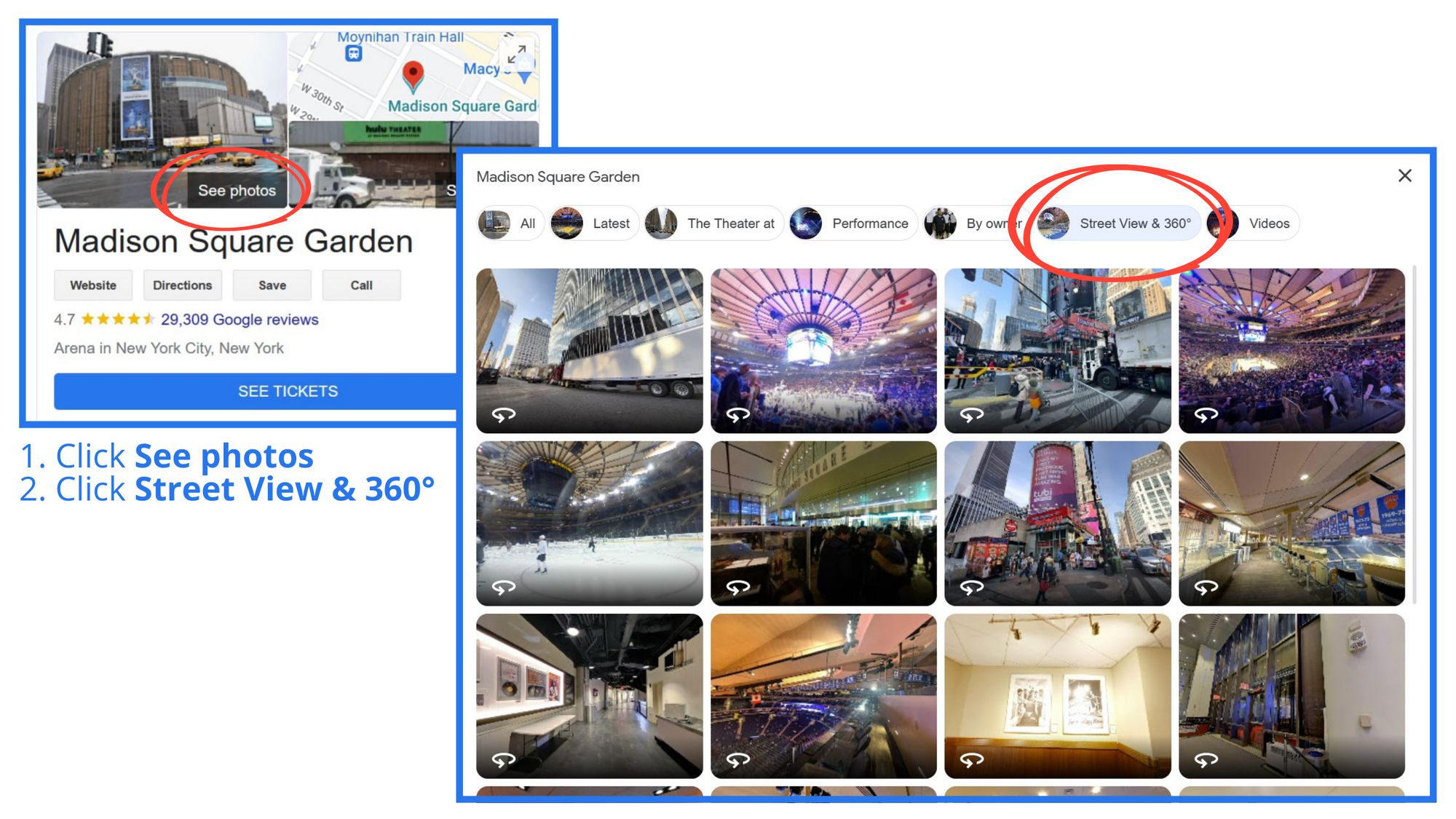 What is Google Street View?
You may have seen funny looking cars with cameras mounted on top driving around town— those are the Google Street View fleet, and they capture street-level views for Google Maps. Initially, Google was only able to cover city streets, but they've since expanded to include even difficult to reach places with the help of trekkers.
The service has evolved to incorporate user-contributed photos, professional imagery, 3D imagery—and now—virtual tours!
What is a virtual tour?
Virtual tours go by various names, such as digital tours, online tours, panoramic tours, 360 tours, 360-degree tours, 3D tours, and immersive experiences.
Regardless of the label, they all share the same purpose: they act as a magical window, allowing potential customers to see a panoramic view of the inside of your business.
These tours use high-quality panoramic images which let you to explore a place as if you were physically there.
Are 360-degree photographs and virtual tours the same thing?
A virtual tour can be as simple or as complex as you desire: it could be a single panoramic image OR it might include many 360-degree images connected by "hotspots" which allow you to move from one area to another.
In this virtual tour, for example, you can move freely through the space:
Benefits of Adding a Virtual Tour to Google Maps
Establish Credibility: If you want to build customer trust, it helps to show them that you can be trusted.
Increase exposure: The idea is pretty simple— if potential customers see you, they'll know you exist. By offering a 360-degree view of your premises, you can showcase your offerings to a larger audience.
Increase revenue: Ultimately, you want customers visiting your business in person and you want them spending money. Since virtual tours provide content rich information, they are more likely to attract qualified leads to your physical location.
Maximize ROI: You don't have to spend an arm or a leg to implement a marketing strategy that reaps rewards. A virtual tour is a one-time investment that functions as an ever-present sales rep, working tirelessly on your behalf.
We could fill a full-length novel with all the benefits of virtual tours, but these are just a few key advantages worth noting. If you want to explore this topic further, we recommend this article.
Do I need any special equipment or professional gear to create a virtual tour?
There is no need to purchase any special equipment to create a virtual tour, but using bad photos will have a major impact on the end result. Blurry images, low light conditions, and other types of low-quality photos may actually do more harm than good.
While you are capable of capturing 360-degree photos with your mobile device, certain cameras can capture the entire field of view (think in terms of a sphere versus a cylinder). If you prefer that higher-quality spherical image, we recommend this camera.
Do I need any special software?
Yes. There are several virtual tour companies you could choose from, but TeliportMe was rated #1 BEST virtual tour software in 2023. If you use this software, you'll be able to click on and virtually enter your business directly from Street View.
Google's Guidelines
Before you create your tour, it's important to avoid the following:
Intellectual Property Violations
Sexually Explicit Content
Illegal, Dangerous, or Violent Content
Harassment and Threats
Hate Speech
Terrorist Content
Child Endangerment
Personally Identifiable Information
If you anger the Google gods, they may not rank your business high enough to garner organic traffic.
Getting Started
If you've made it this far, you're serious about making the interior of your business visible on Google Maps, and we have the perfect solution for you: TeliportMe's unlimited free trial.
With our trial, you'll have the opportunity to create a captivating virtual tour and explore all the amazing features our platform has to offer. The best part is that you can test everything out without any limitations, except for one—you won't be able to publish your tour until you're ready to fully commit.
By taking advantage of our free trial, you can see firsthand how a 360 tour can benefit your business. With TeliportMe, you'll have access to our user-friendly interface and powerful tools that make creating virtual tours a breeze. Our platform allows you to capture stunning 360-degree photos of your business's interior, customize the tour with interactive elements, and even add informative annotations to guide viewers through the space.
#1 BEST Virtual Tour Software
Start an Unlimited Free Trial with TeliportMe Virtual Tour Software
Start Free Trial