12 Reasons Virtual Tours Increase College Enrollment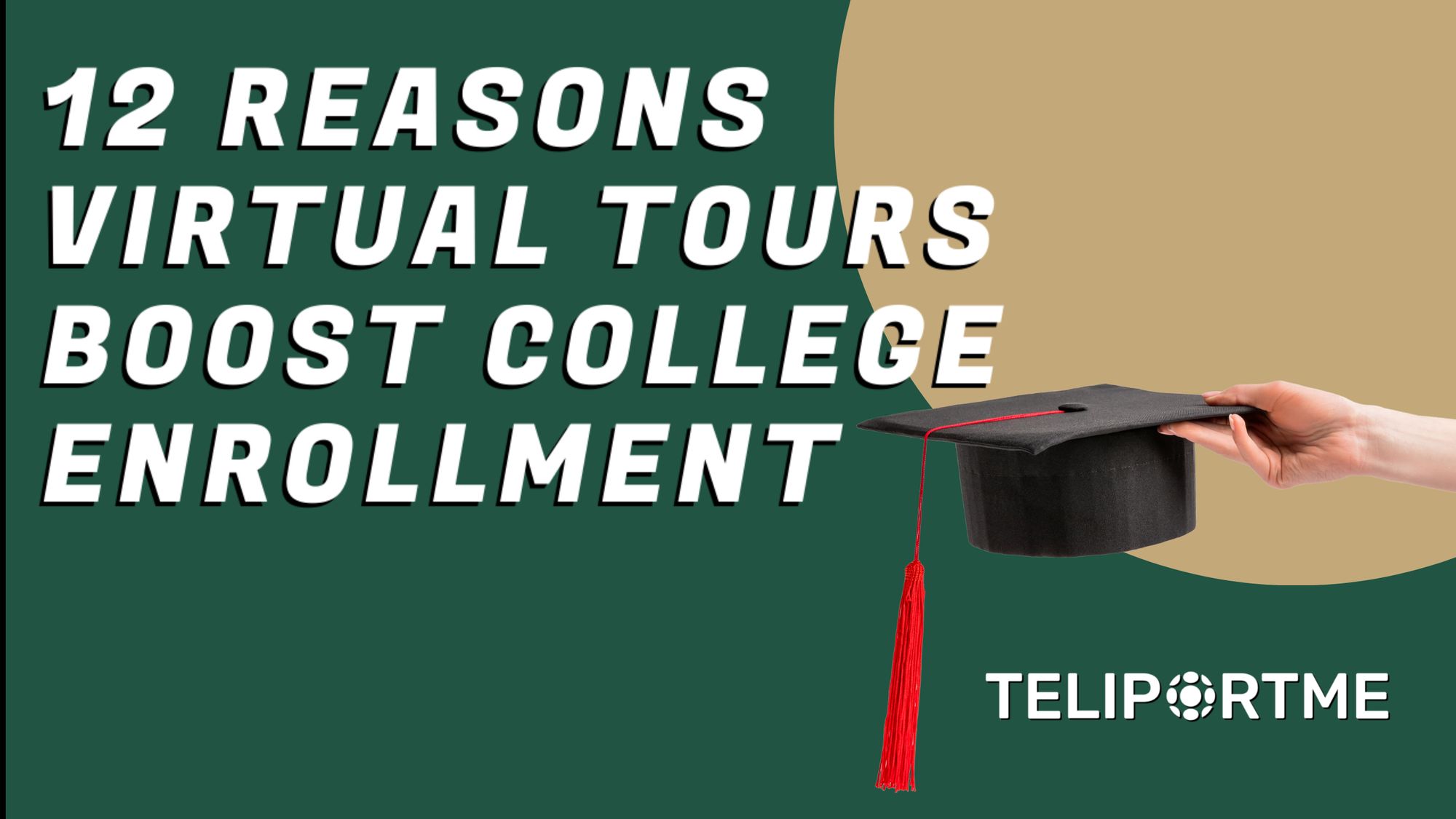 Nationwide, undergraduate enrollment fell nearly 10% from 2019 to 2022. Many economists predicted those numbers would improve after the COVID-19 pandemic, but there continues to be a dramatic increase in Gen Zers choosing to forego higher education. With college and university revenues dropping by a proportional amount, it's become more important than ever for admissions teams to attract applicants.
As universities compete to attract the best students, virtual tours can help schools stand out from the crowd and stay ahead of the competition. Virtual college tours are pretty much what they sound like: you watch from your computer as a student from the college you're interested in gives you a video tour of campus, tells stories, and answers questions.
Virtual college tours are one of the most popular ways to learn if a school is right for you. In fact, online tours of colleges have increased by 258%!
In this article, we'll explore the top benefits of virtual campus tours and how they help universities increase their enrollment numbers.
1. Web-based platforms can reach a larger audience.
Virtual campus tours have a significant advantage over in-person college visits when it comes to reaching a wider audience. By providing an online platform that replicates an on-campus tour experience, virtual tours extend their reach beyond the constraints of physical tours and can connect with an unlimited number of prospective students from all over the world.
Additionally, the ability to share links with friends, family, and admissions counselors via email and social media further expands a college's reach and influence.
2. Virtual options are more inclusive.
Virtual campus tours are more inclusive than traditional in-person tours because they break down barriers for international students, students with disabilities, and students without the financial means to travel. By embracing inclusivity and providing additional options for students to explore student life, colleges can ensure that all students, regardless of their background or circumstances, can have equal access to information.
3. Virtual information sessions can be accessed 24/7.
Having a virtual information session that is accessible 24/7 is highly beneficial for colleges, particularly because it allows them to cater to the needs of the best applicants who often lead busy lives. By offering an online tour that can be accessed at any time, colleges ensure that these exceptional students have the opportunity to explore the campus at their convenience, whether it's early in the morning, late at night, or on weekends.
This flexibility can help students feel more comfortable and confident about their college decision by providing them with a comprehensive understanding of the campus environment.
4. Virtual offerings save time and money.
In-person visits can be time-consuming and costly for both the university and potential students. While traditional on-campus tours might require admissions officers or current students to conduct tours at designated times, virtual hosts offer the opportunity to explore campus life from anywhere at any time. Moreover, this can even improve outcomes for in-person tours because it encourages serious candidates to visit and allows candidates who may not be a good fit for the college to opt out.
5. Virtual experiences enhance the admissions process.
Virtual tours provide a unique and immersive experience that can enhance the admissions process. By utilizing interactive elements such as 360-degree views and videos, universities can provide a more engaging and informative experience for prospective students.
Virtual tours can also provide prospective students with access to alumni interviews, student testimonials, and exact dormitory dimensions that may be more difficult to organize and convey during an in-person tour. All of this extra information can help students feel more connected to the university and more confident about their decision to enroll.
6. Virtual tours help colleges stand out from the competition.
High school seniors have no shortage of options of colleges to choose from and virtual tours can help shorten a long college list by providing a way to showcase what makes each campus unique. Students can explore facilities, historical landmarks, and special events like homecoming and alumni weekend which in-person tours may not have the opportunity to touch on.
These special features provide more in-depth understanding of what makes the college unique and can make a big difference to college-bound students.
7. Virtual tours help colleges establish themselves as innovative.
By adopting 3D virtual tour technology, colleges can communicate that they are forward-thinking and provide an atmosphere of innovation, which can be an attractive quality for undergraduate students. Undergraduate students value access to advanced tools, resources, and learning environments that prepare them for the future workforce.
Moreover, being exposed to cutting-edge technology can inspire creativity, critical thinking, and problem-solving skills, preparing the student body for a rapidly evolving digital landscape.
8. Virtual experiences help applicants imagine themselves at college.
The college application process can be daunting, but the ability to imagine life on campus can motivate applicants to overcome these challenges and avoid dropping out of the admissions funnel. By visualizing themselves as students on campus, engaging in classes, participating in activities, and connecting with the college community, applicants form an emotional attachment with student life.
This emotional connection fosters a sense of belonging which plays a significant role in influencing a high school student's decision to become a college student.
9. Bad weather can deter applicants.
Touring campuses during bad weather can create a gloomy or unwelcoming impression of a college, potentially affecting how an applicant feels about that place. Furthermore, bad weather may hinder exploration of certain spaces, impacting a student's ability to fully experience and evaluate the campus.
By avoiding the limitations and inconveniences of bad weather, virtual tours ensure that students can still have a comprehensive and positive experience of the campus.
10. Virtual campus visits can be personalized.
By tailoring a tour to specific academic programs or areas of interest, students can explore facilities, meet faculty, and gain insight into the curriculum, providing a clearer picture of their potential college experience.
This personalization allows students to evaluate whether the institution aligns with their aspirations and goals, significantly influencing their decision to enroll by fostering a sense of connection and confidence in their chosen path.
11. Virtual college tours can be experienced more than once.
The ability to engage with a virtual visit multiple times helps prospective students make a more informed decision about whether or not to attend the college, as it allows them to gain a comprehensive and nuanced understanding of the campus environment, facilities, and overall fit for their educational goals. It reduces uncertainty, minimizes doubts, and empowers applicants to make decisions with greater confidence and conviction.
12. Virtual sessions allow colleges to track what students value.
Virtual sessions allow colleges to track what students value through the use of heat maps. Heat maps are visual representations of the areas of the campus that are most frequently explored by users during a virtual tour. By analyzing heat map data, colleges can gain insights into which areas of the campus are most popular with real students and use this information to inform their recruitment efforts. For example, if a heat map data shows that people spend a significant amount of time exploring a sport playing field or science lab, that college may choose to highlight those facilities in their marketing materials.
The bottom line:
While there has been a dramatic increase in students choosing to forgo college following the COVID-19 crisis, it's clear that virtual tours are a valuable tool that college admission teams should utilize to attract and engage students on the path to college.  Ultimately, attracting applicants requires a multifaceted approach, but including virtual tours in college application materials will certainly enrich the applicant's understanding of life on campus and have a positive impact on their decision to apply. It's really no surprise that virtual experiences are becoming a standard requirement for academic institutions across the globe.
Are you ready to take your marketing strategy to the next level?
Elevate your College Enrollment
Start a Free trial with TeliportMe Virtual Tour Software
Start Free Trial