Virtual Tours for Event Venues: A Comprehensive Guide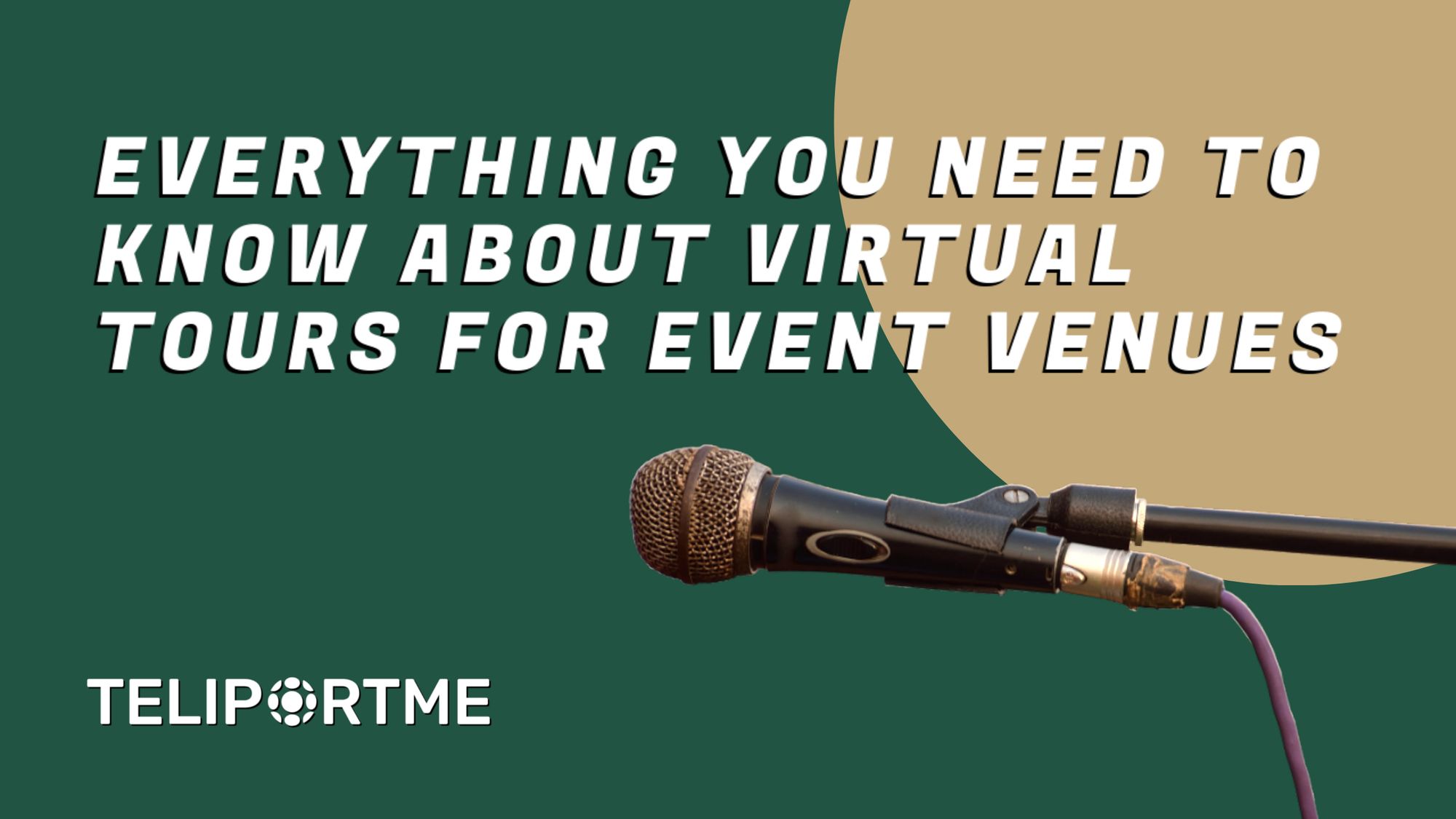 ---
In this comprehensive article, we'll explore the benefits of virtual tours and why they're a must-have for event venues. We'll also provide expert tips and tricks to help your business stand out in such a competitive market.
Whether your business model has solely relied on word-of-mouth or you're a digital marketing expert, we'll provide you with valuable insights.
Index
Intro
What is a virtual tour?
What unique advantages does a virtual tour solution offer to event venues?
How to maximize the reach of your virtual tour
Do I need any special equipment or professional gear?
Do I need software?
What kind of information can I include in a virtual tour?
How long does it take to create a virtual representation of my venue?
Do I need advanced technical skills?
How much does a virtual tour cost?
Who can I hire to create a virtual tour for me?
Getting Started
Intro
Planning a wedding is a significant event in one's life, and it often comes with high expectations and a desire for everything to be perfect.
For example, a bride might tell her event planner that she wants a wedding venue with hardwood floors, ample natural lighting, an accessibility ramp for elderly guests, sufficient parking for all attendees, and a private changing room where she can prepare to make her getaway.
To be fair, these aren't outrageous requests.
But, as a venue owner, how can you communicate that your venue meets all the above requirements?
The solution is not exactly a new one: virtual tour technology.
An online tour can be a valuable tool to showcase event spaces and assist prospective clients in verifying whether it possesses the necessary amenities to create a successful event. Any venue space can benefit from a virtual tour— whether you host weddings, corporate events, business meetings, dining experiences, or some other type of event. They save both you and your clients considerable time, while also boosting conversion rates.
What is a virtual tour?
Virtual tours have many names—digital tour, panoramic tour, 360 tour, 360-degree tour, 3D tour, immersive experience, interactive tour, online tour, remote tour, virtual reality...you get the idea.
The specific terminology may differ, but they essentially mean the same thing.
A virtual tour is a digital representation that uses 3D rendering techniques to recreate the experience of exploring a physical location. It often uses interactive features called "hotspots" that let you move from one area to another.
What unique advantages does a virtual tour solution offer to event venues?
Expand your customer base: Obviously, can reach an unlimited number of people online. However, simply putting a virtual tour on your site can help improve your site's SERP ranking and drive organic traffic.
Empower your customers: By allowing clients to navigate and examine every corner of the event venue, they can get a more complete understanding of the space's features and possibilities. This informative tool empowers potential customers to familiarize themselves with your event venue at their own pace.
Enhance visualization: It may be difficult for prospective customers to imagine what an empty venue space might look like during a special event. Instead of relying solely on imagination, you can showcase your space in action, providing visual evidence of how previous events have been set up and decorated.
Save time: Virtual experiences streamline the venue selection process for clients. They can conveniently explore multiple event spaces within a short time frame, narrowing down their choices based on their specific requirements and preferences.
Develop qualified leads: Leads generated through 360 tours tend to be more qualified. They have already taken the time to explore your space and evaluate its suitability. This prequalification can help your team focus their efforts on those who are genuinely interested in your space and have a higher likelihood of converting into bookings.
Increase event bookings: When your online tours attract more qualified leads, you can expect a significant boost in conversion rates and a subsequent increase in booking rates.
How to maximize the reach of your virtual tour
The simple act of including this innovative technology on your site can improve your site's ranking on search engines like Google, but there are also a few more things you can do to help expand their reach. Here are some tips for effectively incorporating virtual venue tours into your digital marketing strategy:
1. Embed on your website
Create a dedicated page on your website for your virtual tour. It can be embedded using a plugin or software. If you're not sure what software to use - don't worry - we're getting to that!
Note: "Embed" refers to the process of incorporating or integrating content from one source into another platform or website.
2. Share on social media
Share your 360° tour on social media platforms like Instagram, Facebook, and LinkedIn. Use attention-grabbing captions, hashtags, and keywords to maximize its visibility and encourage engagement from your followers.
3. Include in marketing emails
You'll want to contact event planners and prospective clients. Incorporate links to your tour in your email campaigns and use compelling subject lines or content that entices recipients to explore further.
Do I need any special equipment or professional gear?
There is no need to spend thousands of dollars purchasing any special equipment to create a virtual tour. That said, using bad photos will have a major impact on the end result. Blurry images, low light conditions, and other types of low-quality photos may actually do more harm than good.
While you are capable of capturing 360-degree photos with your smart phone, certain cameras can capture the entire field of view (think in terms of a sphere versus a cylinder). If you prefer that higher-quality spherical image, we recommend this camera.
Do I need software?
Yes. There are several virtual tour companies you could choose from, but TeliportMe was rated #1 BEST virtual tour software in 2023. If you use this software, you'll be able to click on and virtually enter your business directly from Street View.
What kind of information can I include in a virtual tour?
This is totally up to you. In general, business owners should give prospective clients all the necessary information to make informed decisions. In addition to the panoramic imagery, you can also include text descriptions, audio, video clips, or a virtual host that will take your potential client on an event planning journey.
💡
Pro tip: You can streamline your booking process and capitalize on the impulse to book by providing a link to your event request form directly in your tour.
How long does it take to create a virtual representation of my venue?
The time required to create a virtual tour can vary depending on several factors, including the complexity of your venue and the number of customizations or interactive features you include in your tour.
Generally, we estimate this will take anywhere from a day to a week.
Do I need advanced technical skills?
No. Virtual tour software is designed to be user-friendly and intuitive. If you do run into trouble, there are no shortage of tutorials available on YouTube and across the web.
How much does a virtual tour cost?
The cost of a virtual tour depends on your chosen equipment (did you buy a camera or use your smart phone?), your chosen software (expect to buy a monthly subscription), and whether or not you choose to outsource everything to a professional.
If you choose to create the tour yourself without buying any equipment, business owners can expect to pay $20-30 per month for the software subscription.
Who can I hire to create a virtual tour for me?
There are likely qualified photographers in your area who can handle this project for you. Since a 360 photographer will need to visit your venue in person, we recommend Googling "360 photographer near me." Take care to read reviews before hiring any professional help. You want to make sure your photographer knows what they're doing.
Getting Started
If you're still asking yourself, "do I really need this stuff?" then let us remind you: your competition is already leveraging this digital tool to gain a competitive advantage. As the competition embraces technology, it becomes crucial for you to do the same to keep business opportunities alive.
Fortunately, we have the ideal solution for you: TeliportMe's unlimited free trial.
With this trial, you'll have the chance to create a virtual tour and explore all the features on TeliportMe's platform. The best part is that you can test everything without any restrictions, except for one—you won't be able to publish your tour until you're fully committed.
Elevate your marketing strategy
Start an Unlimited Free Trial with TeliportMe's Virtual Tour Software
Start Free Trial